From 15-16 March Poraka Nova hosted the mobility event in Bitola, where participants (stakeholders and young people ) from Agder, Norway and Glocal Factory, Italy attended. The two day agenda was filled with visits to various venues were young people of Bitola have space to participate in different activities.  From the Municipality of Bitola, to youth centers and youth organization and Universities we covered all important places were young people met stakeholders or policy makers. +10 participants of this event had intercultural shared experience on same topics, young people and their democratic participation in the processes.
During the first day, the first visit was reserved to the Municipality of Bitola, they presented to us their activities related to youth and sports, the grants that the municipality plans to allocate exclusively for youth organizations in the near future. They also presented us with the functioning of the local youth council and its role in the implementation of youth policies. They also showed us the newly opened youth center, where the YMCA organization currently operates. The stuff from youth cultural center presented to us their activities related to young people in the field of entrepreneurship, employment, culture, social protection. Additionally, YMCA shared their activities for organizing youth camps for young girls and young boys, with the aim of acquiring leadership skills and making social changes.
On the second day we visited Universities in Bitola, started with a meeting in Poraka Nova where we discussed some of the youth issues in Norway and Italy and after that we got a presentation from – Presentation of Young Entrepreneur from the company Bintern – Dimitar, and a – Presentation from the Youth Ambassador and Young Activist from the organization Youth for Change – Pece, where they both discussed the challenges and barriers that they had to overcome in their growth and development as professionals.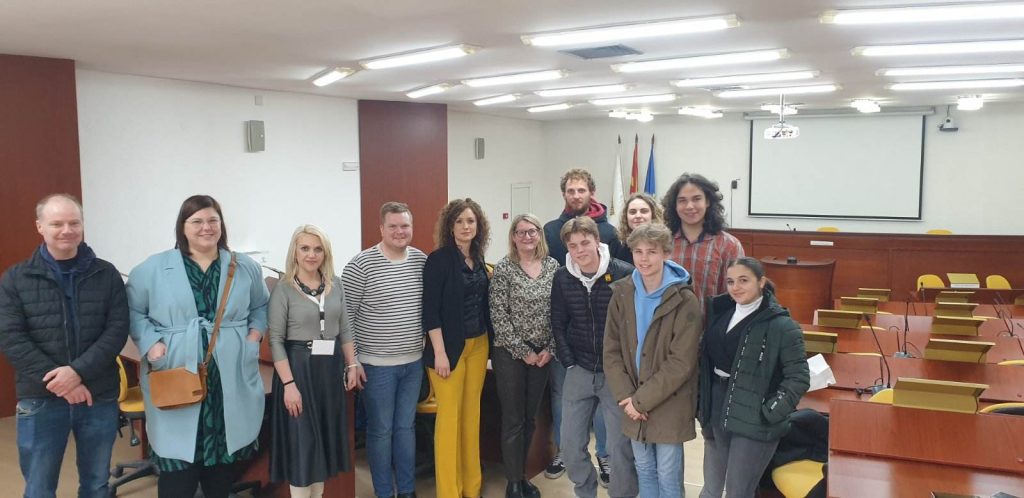 Afterwards visit to the International Slavic University was organized, where we got a presentation from the university and the students about their Erasmus+ program. After that we went to Faculty of Biotechnical Science – Bitola and Faculty of Biotechnical Science – Bitola. where we had a presentation from the school staff along with their students about their programs and exchanges. After that we got a presentation from the Faculty Student Assembly they presented their programs, events and experience.
Having collected our impressions from both days, we can say that we had a very productive event, filled with interesting discussions, presentations and visits. Some of the conclusions were that young people from Macedonia and Italy are facing similar problems regarding youth participation and less involvement in decision making process. Macedonian youth are very creative and innovative from the various problems they face, so they constantly look for and create new innovative solutions to approach problems and find solutions for them. On the other and Norway has more advanced system for including young people in democratic process, their politicians are more open provide easy access to approach them and provide space were young people's voice are heard and their issues are resolved or addressed very efficiently. All participants from abroad had very good impression on how Macedonian institutions are open for collaboration and provided insightful presentations for youth related topics.